Sunrise over Lake Champlain from Ticonderoga
Support the victims of Hurricane Katrina (click image)
Musings and Meanderings
Tuesday, September 23, 2008
* If you grow up in Hawaii, raised by your grandparents, you're "exotic, different."

* Grow up in Alaska, eating mooseburgers, you're the quintessential American story.


* If your name is Barack you're a radical, unpatriotic Muslim.

* Name your kids Willow, Trig and Track, you're a maverick.


* Graduate from Harvard law School and you are unstable.

* Attend 5 different small colleges before graduating, you're well grounded.


* If you spend 3 years as a brilliant community organizer, become the first black President of the Harvard Law Review, create a voter registration drive that registers 150,000 new voters, spend 12 years as a Constitutional Law professor, spend 8 years as a State Senator representing a district with over 750,000 people, become chairman of the state Senate's Health and Human Services committee, spend 4 years in the United States Senate representing a state of 13 million people while sponsoring 131 bills and serving on the Foreign Affairs, Environment and Public Works and Veteran's Affairs committees, you don't have any real leadership experience.

* If your total resume is: local weather girl, 4 years on the city council and 6 years as the mayor of a town with less than 7,000 people, 20 months as the governor of a state with only 650,000 people, then you're qualified to become the country's second highest ranking executive.


* If you have been married to the same woman for 19 years while raising 2 beautiful daughters, all within Protestant churches, you're not a real Christian.

* If you cheated on your first wife with a rich heiress, and left your disfigured wife and married the heiress the next month, you're a Christian.


* If you teach responsible, age appropriate sex education, including the proper use of birth control, you are eroding the fiber of society.

* If , while governor, you staunchly advocate abstinence only, with no other option in sex education in your state's school system while your unwed 17-year-old daughter ends up pregnant , you're very responsible.


* If your wife is a Harvard graduate lawyer who gave up a position in a prestigious law firm to work for the betterment of her inner city community, then gave that up to raise a family, your family's values don't represent America's.

* If your husband is nicknamed "First Dude," with at least one DWI conviction and no college education, who didn't register to vote until age 25 and once was a member of a group that advocated the secession of Alaska from the USA, your family is extremely admirable

And finally - how come this Palin character is not allowing ANY reporters into her first meetings with world leaders?

Oh yes just what we need another Dick Cheney.

America! Get a clue.
posted by Mike 11:19 PM
Monday, September 08, 2008
What a difference one year Makes
Incoming Sophomore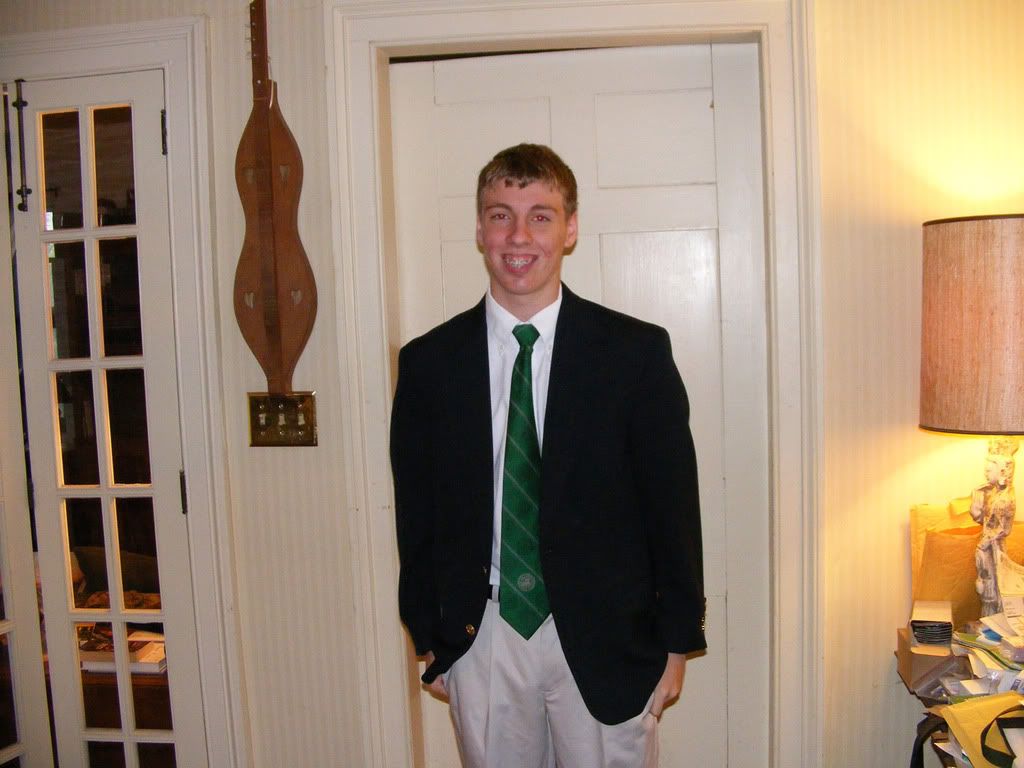 Incoming Freshman
posted by Mike 10:34 PM
Saturday, September 06, 2008
posted by Mike 1:55 PM
Thursday, September 04, 2008
PALIN: "I have protected the taxpayers by vetoing wasteful spending ... and championed reform to end the abuses of earmark spending by Congress. I told the Congress 'thanks but no thanks' for that Bridge to Nowhere."

THE FACTS: As mayor of Wasilla, Palin hired a lobbyist and traveled to Washington annually to support earmarks for the town totaling $27 million. In her two years as governor, Alaska has requested nearly $750 million in special federal spending, by far the largest per-capita request in the nation. While Palin notes she rejected plans to build a $398 million bridge from Ketchikan to an island with 50 residents and an airport, that opposition came only after the plan was ridiculed nationally as a "bridge to nowhere."

PALIN: "There is much to like and admire about our opponent. But listening to him speak, it's easy to forget that this is a man who has authored two memoirs but not a single major law or reform - not even in the state senate."

THE FACTS: Compared to McCain and his two decades in the Senate, Obama does have a more meager record. But he has worked with Republicans to pass legislation that expanded efforts to intercept illegal shipments of weapons of mass destruction and to help destroy conventional weapons stockpiles. The legislation became law last year. To demean that accomplishment would be to also demean the work of Republican Sen. Richard Lugar of Indiana, a respected foreign policy voice in the Senate. In Illinois, he was the leader on two big, contentious measures in Illinois: studying racial profiling by police and requiring recordings of interrogations in potential death penalty cases. He also successfully co-sponsored major ethics reform legislation.

PALIN: "The Democratic nominee for president supports plans to raise income taxes, raise payroll taxes, raise investment income taxes, raise the death tax, raise business taxes, and increase the tax burden on the American people by hundreds of billions of dollars."

THE FACTS: The Tax Policy Center, a think tank run jointly by the Brookings Institution and the Urban Institute, concluded that Obama's plan would increase after-tax income for middle-income taxpayers by about 5 percent by 2012, or nearly $2,200 annually. McCain's plan, which cuts taxes across all income levels, would raise after tax-income for middle-income taxpayers by 3 percent, the center concluded.

Obama would provide $80 billion in tax breaks, mainly for poor workers and the elderly, including tripling the Earned Income Tax Credit for minimum-wage workers and higher credits for larger families.

He also would raise income taxes, capital gains and dividend taxes on the wealthiest. He would raise payroll taxes on taxpayers with incomes above $250,000, and he would raise corporate taxes. Small businesses that make more than $250,000 a year would see taxes rise.
posted by Mike 6:05 PM
Wednesday, June 25, 2008
Click on the logo below and you will be asked if you wish to download a 10 meg exe file. This is the best of the best of my NF 08 pictures, and is definitely Virus Free.
Enjoy
posted by Mike 11:50 PM
Monday, December 24, 2007
posted by Mike 11:51 PM
Thursday, October 18, 2007
A memoir of a funeral
yes this is long
A beige car raced along the highway, driver lost in thought. The road seemed to go on forever, and overcast reflect the mood in the car, the reason they were on the road. Suddenly the sun showed its face through the clouds illuminating the man's sleeping face. The phone rang. They had not made it in time, Jimmy was passing. Nearly breaking up, her voice asked him to say a prayer, and then the sun hid itself behind the clouds again, as if it knew.
-=-=--=-=-=-=-=-=-=-=-=-=-=-=-=-=-=-=-=-=-=-=-=-=-=-=-=-=-=-=-=-=-=-=-=-=-=-=-=
The voice on the phone was deep and sad, "Michael, Jimmy passed before we were able to make it out there."
I stood there under the florescent lights and sighed, cellphone to my ear.
"It would mean a lot to everyone if you could come out." The voicemail continued.
This had been a long time coming, though hope shines through the darkest days, there had been little question in my mind that this day was going to dawn, just not this soon.
Hardly 6 months older than I, felled by that dark disease, cancer.
-=-=-=-=-=-=-=-=-=-=-=-=-=-=-=-=-=-=-=-=-=-=-=-=-=-=-=-=-=-=-=-=-=-=-=-=-=-=-=-
It's easy to forget for a few hours surrounded by young people, that a childhood friend and loved one had passed too soon. The noise of the halls, the activity of the classroom, all so full of life. It's one of my greatest gifts and curses, the ability to completely forget for an hour, a day, even longer.
Once home though, the thoughts crowd you out, make it hard to stay focused on what you are doing.
Of course the cell phone was nearly constantly going off. First my father, then my father, then my father again. "Yes I am doing the flight research now" I told him. "No I have not told Liza yet, she won't get home for a couple of hours now."
By the time she had gotten home, I still had not decided. I knew I should go, but I really don't like funerals. I mean who does? Besides it would mean canceling taking a class I really liked. Rationalize, Rationalize Rationalize….
In the end it was my own body that decided for me. Watching the end of Ghost Whisperer, about a platoon of Iraqi' soldiers who were survived by one hero, the anger I felt about the futile waste of lives every day in Iraq, and the sadness of loosing Jim welled up inside me and I nearly cried.
Ok yea I should go.
-=-=-=-=-=-=-=-=-=-=-=-=-=-=-=-=-=-=-=-=-=-=-=-=-=-=-=-=-=-=-=-=-=-=-=-=-=-=-=-=
Did I mention that I really like to sleep in on Sunday mornings?
What surprised me the most was the length of the line for security at 730am on a Sunday morning.. Doesn't any one else prefer to sleep in on Sunday?? I opted for business casual, so I wouldn't have to change on the way to the viewing.
The clever customer service award goes to the United attendant at the check-in, whom in a marvelously brave gesture allowed me to take my hanging bag up to the gate to discover it had to be checked… I wished I'd just decided to check the bag. Then I wouldn't have had to scrounge for shampoo and mousse later…
Have I mentioned too that I do love airplane rides?
When we were young, we used to fly round trip San Jose to Orange County quite often, once a month, maybe twice for a period in our youth. Getting on an airplane meant seeing our sisters, our father and step mother, it usually meant fun, maybe a trip to Disneyland. Just as I anticipate the first snowfall, I am always excited to fly. Now as an adult it's the opportunity to catch up on reading. I pulled the ace though by getting one of those emergency exit row seats… Lots of leg room.
I made my way to the gate in Chicago for the Indianapolis leg. Airports are big malls with food courts now a days. You can get anything you need, anytime. Except some decent take out food at a decent price.
Laurie and Anne joined me at the gate to Indy. We flew one of those 2x2 CanadaAir jets. As I looked out the window on our descent I noticed a large round track with a tall superstructure along the inside straightaway. The Brickyard!! The place of some of my earliest sports memories. I'd never seen a full aerial shot, the grounds are beautiful and there is a golf course just to the side.
-=-=-=-=-=-=-=-=-=-=-=-=-=-=-=-=-=-=-=-=-=-=-=-=-=-=-=-=-=-=-=-=-=-=-=-=-=-=-=-
The beige car picked us up from the airport, driven by my Step Mom. As I looked out the window driving into Carmel, listening to the litany of issues, problems and interactions, I was glad to be for a time in the warm embrace of this side of the family. Each was dealing with this loss in their own way, Elias the planner, Dad the conciliator, Ollie the organizer. That all could cope in their own way in the full bosom of the family was what family is all about.
What little I saw of Carmel and Indianapolis was very beautiful, but not very distinctive. Like many newer city and suburban areas, there is a sameness to it that transcends location. Frankly I could have been anywhere. As we drove around the business and retail areas of Carmel later that impression was reinforced by others voicing the same opinion.
We dropped our stuff at the Residence Inn and headed over to the viewing. Jimmy was laid to rest in a beautiful casket that was open. I don't have much experience with open casket; the first I ever saw was when my wife's grandmother passed last year. This is always a sensitive subject, but I have never been sure if I am comfortable with this. One of my cousins and I did go up to the casket finally to pay our last respects to Jimmy. I could see that the last year had been very hard on him, but he was peaceful and as many commented, we could almost see his amazing smile in his face. The funeral home with the aid of his family had put together a wonderful retrospective of Jimmy's life in pictures, from 60's ear family photos, to the most recent pictures of him when he was involved in Lance Armstrong's Livestrong organization. I am still wearing the yellow band we all took to wearing this weekend in support of this organization.
The hardest thing was not seeing Jim but seeing his father. This was understandably a very difficult time for him, and his health has been an issue for some time. We all sat with him for a bit, and tried to comfort him as much as we could. He is very lucky to have such an amazing wife for support, and I know in the end he will be able to celebrate Jim's life, and be happy that Jeff is functional, and that Mary and Jay are healthy and happy.
My Father did a service for Jimmy there at the funeral home that was very moving. He related many stories about Jim's life, his work, hobbies, and non profit organizations that he had supported. I for one learned much about my cousin's life from this service. Finally when it was all done we retired to the Residence Inn for a small get together with food and drinks.
-=-=-==-=-=-=-=-=-=-=-=-=-=-=-=-=-=-=-=-=-=-=-=-=-=-=-=-=-=-=-=-=-=-=-=-=-=-=-=-
When people look at the pictures from this small dinner and the reception that followed the funeral and gravesite services, I am asked if this was such a sad event, why so many people are smiling. The short answer is that people need gaiety during times of trial. But more importantly this is exactly what my cousin would have wanted. He had a keen sense of humor and was the type of person to say "Just get on with it, get past it, move on." Of course we will in no way ever get past such an untimely passing, but it is in this spirit that the dinner was a happy one to the extent that it could be.
Have you traveled on business before? Well you know those bog standard meeting rooms, not the ones with the long tables in rows but the strategically placed round tables? This was the canvas that we painted our little get together.
Add some sheets for tablecloths, the "have liquor bar will travel" New Hampshire alcohol collection, and the hotel boombox. Liberally sprinkle in large amounts of cold cuts, cold chicken and other delights, stir briskly and you have a colorful party.
Although there had been some socializing at the funeral home, it was not until this get together that folks were able to relax a bit and forget for a while. As the room filled up people began to settle in and "tuck in", as the English say, I sat near Jeff. As I had not had a chance to talk to him since his stroke, I had been looking forward to this more than anything else. We talked and talked as we ate and ate. That man for being so thin sure can demolish a plate of food. Emir and one of Jimmy and Ollie's life long friends also sat with us, as did various others from time to time.
Next to our table Armand did what would best be called holding court. He was extremely entertaining with stories that were apparently uproariously funny, and between him and Anne they had that table breathless for most of the night. Jay's family and Mary's family arrived around the same time with Ollie and they settled out at various tables as well. I got a chance to speak with Jay for some time, and then he and his wife Theresa took care of their child and Mary and Matt's kids at the pool for a bit.
The full party did not actually wind down until around 1200 or so when Kathy came back with Carol. Her presence meant that of 11 living children in my generation, only three were missing, my two brothers and younger sister. My bag checking fiasco put the final movement on the evening when I did a bit of path finding (it was not far) to one of these 24 hr markets and got some personal care items. I stayed up a bit to read then checked my mail and crashed on the pull out couch. Cecil, my roomie had already gone to bed in the bedroom, but only after trying to be too nice and take the pull out. I had to explain to him that I wanted to be able to check my email before bed, so he finally acquiesced and crashed in the bedroom a few hours before me.
-=-=-=-=-=-=-=-=-=-=-=-=-=-=-=-=-=-=-=-=-=-=-=-=-=-=-=-=-=-=-=-=-=-=-=-=-=-=-=-
With a little grumbling about not sleeping in, both generations of family coalesced at the big open breakfast the Residence Inn serves. It was a good variety of standard fare both warm and cold. I had mostly protein, eggs, sausages etc, but also treated myself to some French toast as I figured that the day would be long and that the funeral reception at Matt's brother's house would be quite a bit down the road.
We all met at the funeral home once again and this time the local Priest did celebrate with a few words. Since I had commandeered the minivan for the trip to the market last night I became the designated driver and Nav user thanks to Mary and Matt offering up their vehicle for transport use. The Starbucks coffee a few of us went to go get when we arrived had been cooling in the car, and I had been drinking a cold water in its stead. I made the mistake of brining it into the viewing and was very strongly told to take it back outside by my Uncle. Ooops. Then of course I noticed some people from Ollie's side of the family a bit later in the viewing with.. yes coffee from Starbucks. Apparently their Uncle's didn't get the memo…
Can I just mention here, that for people who do not drink "sissy soup", those of us who only drink black coffee, Starbucks must be the most over rated coffee in the history of mankind. The best comparison I could make to my cup is battery acid. Simply horrid. Now those who have it "light and sweet" or whatever will surely beg to differ. But I just don't like the aftertaste of milk and sugar in my mouth after a good cup.
At the appropriate time I went out to start the Minivan. Two of Carmel's finest were there with their motorcycles and were explaining where to put the funeral flag and to put your lights and blinkers on. I programmed the Nav so I had some idea of where we were going, and then once loaded up we followed the funeral procession to the church.
-=-=-=-=-=-=-=-=-=-=-=-=-=-=-=-=-=-=-=-=-=-=-=-=-=-=-=-=-=-=-=-=-=-=-=-=-=-=-=-
Having never been to a Roman Catholic funeral, nor for that matter having experienced much of Roman Catholicism at all, I was curious but cautious about the service beforehand and quite impressed afterwards. The young priest's sermon which covered Jim's life used the Saints in the stained glass windows as examples of different points of his life. My personal beliefs not withstanding I thought it was an excellent way of showing Jim's life to one that followed his faith. I was proud of my cousin as I learned even more about his life during the service. The church itself was quite beautiful with a tile fresco of Jesus on the cross behind the altar, a huge etched glass scene above the entrance to the main part of the church, and also housed a private school. The one thing I did though was opt to sit alone back and to the side of the families. Here is where I can be the most uncomfortable sometimes with a loss of a friend or loved one and preferred to just sit alone. Once the funeral was over we followed the casket back outside and reassembled the procession to go on to the burial.
The cemetery that the family had chose for Jim's last rest was really quite beautiful, and the sun was shining so bright and warm that we had a tent erected over the grave. This was the hardest part for all of us, but as my Father and the Roman Catholic Priest alternated speaking from their liturgy, I felt the final presence of my cousin around us. Although this is not within the Christian teachings, I am somewhat psychic, and it was a powerful presence. My heart went out most to his widow and to his father, who looked so lost and sad. I won't speak much of this because it just is not seemingly to share private grief, but I did empathize with them by considering what a loss my son or wife would be to me, in order to try to understand better.
As the service ended, and even as the funeral home directors made some rather obvious statements to the family that the service was over, we all stayed around the casket and the grounds next to the tent. Mary's girls each took some of the roses that Ollie was offering to everyone in remembrance and began to spread them around the other gravestones. Jimmy would have loved this, he being such an obviously giving person, as evidenced in his life and his charities. We finally broke up and went back to the vehicles to go over to Matt's brother's house for the reception. I programmed the Nav system to take us there, and promptly took a wrong turn. Technology only works when the human is competent.
-=-=-==-=-=-=-=-=-=-=-=-=-=-=-=-=-=-=-=-=-=-=-=-=-=-=-=-=-=-=-=-=-=-=-=-=-=-=-=-
Words really don't cover the beautiful house and the wonderful hosting that Geno and Cindy provided for all of us. Matt's brother is a really nice giving person, and the food that was there was really amazing. The house itself was huge, and had ample space inside and out for the legions of family that descended upon them.
We did the obligatory group photos' right before Jay and his family had to leave. To have all these people in one place was extremely rare for my side of the family. We are truly dispersed to the four winds, you name a continent or area of the US and we have someone from there. Left coast, Midwest, Right Coast, Middle East, Europe, etc etc.
I know I have not mentioned everyone individually that I saw this weekend but that would add even more paragraphs to this apparently long winded memoir. Just be assured if you are reading this and you were there, it was good to see you, even if the reason was so sad.
We traded emails and then started to drift off to homes or airports. Laurie, Anne and I went back together with Ted, driven by one of Ollie's work friends Lilly. She and I had a very nice discussion along the way in the front seat. Once in the airport we realized we had arrived MUCH too early, and had nearly two hours to wait. If this is possible, the security lines at Indianapolis were shorter than Ive ever seen in Albany and that is saying something. Anne and I went shopping and I did get the obligatory snow globe for Alex and the equally obligatory refrigerator magnet and keychain. Laurie worked, and Anne surfed and I read, until all of a sudden we realized that their flight was supposed to leave in 15 and no call to board had come along. Indeed I ended up boarding before they did even though my flight time was 45 min later. I know they got home because I got an email but I don't know the story.
I flew through DC on the way back and I was refused to pay outrageous prices for airport food again, so when I went shopping I found a little shop that sold political stuff, buttons and bumper stickers for all the various candidates. Having not made a firm decision on whose bumper sticker I want I passed on those and I felt that the buttons were probably not authentic. However I did see a lot of mugs that said Friends don't let friends vote Democrat. Lots of them. At first I was taken aback that this was a right leaning shop, then I got to thinking. They probably started with equal numbers of mugs with for the Dems and Reps, so I figured that the Dem ones were much more popular. Sure enough I hunted around and found one that that said "Friends don't let friends vote Republican" and bought it. (Sorry to all my Rep readers, but you all know where I stand).
The flight to Albany was all but empty and I got home around 11, to a couple pieces of warm pizza. A nice welcome home.
-=-=-===-=-=-=-=-=-=-=-=-=-=-=-=-=-=-=-=-=-=-=-=-=-=-=-=-=-=-=-=-=-=-=-=-=-=-=-
I'd like to write a nice paragraph here, but I think I have pretty much said it all. Jimmy lived a good, but too short life. We will miss him.
Thank you for reading this
posted by Mike 9:09 PM
Monday, October 15, 2007
Back safe and sound
It was indeed a bittersweet Sunday and Monday but I'm glad I went.
I'm toying with an idea of combining my writing knowledge from the books I've been reading (see below) to put together a memoir of the weekend. Either way it was wonderful seeing cousins I had not seen in tens of years, but very sad to have someone pass who was just a few months older than I.
posted by Mike 11:57 PM
Saturday, October 13, 2007
Busy weekend
In an addendum to the sad passing of my cousin Jim, I have accepted the help of one of my Uncles and booked tickets to the funeral in the Midwest. I leave bright and early Sunday am with a lay over in Chicago, where in amazing serendipity, I hook up with my step sister and cousin for the second leg of the journey.
I return on Monday night late via DC. It was a hard decision, but I feel the right one. Difficult because I had to take time from my jobs and definitely the right one as I did actually want to be there.
Although it is a solemn occasion, I will be taking the time to reacquaint myself with some cousins I have not seen in years and years including Jims' brothers and sister, and a few other cousins. My generation will be well represented in that there will be at least one child of each of my Dad's generation's brothers and sisters (did that make sense?) Dad's generation are all originally immigrants and this is an important old world distinction.
posted by Mike 10:31 PM
Thursday, October 11, 2007
Sad Passing
I wanted to share the very sad news that my cousin Jimmy has passed due to complications from the cancer he has been fighting for some time. Jim was the son of my Uncle Elias, who is my father's older brother.
Although as adults we were not close, during college he and I hung out together a bit in my early years at Pitzer. I have very fond memories of him, and our prayers go out to his family. Sadly this is the second of Elias' children who have been afflicted in some way, as his younger brother Jeff is a survivor of a heart valve prolapse that caused a very debilitating stroke. Jeff and I were very close all through college, as he was with my brother Greg.
posted by Mike 10:46 PM
Wednesday, October 10, 2007
What cha been reading Mike?
Thank you for asking.
First of all I've been reading this amazing series by Writers Digest Books called Write Great Fiction. There are four books in this series written by either successful authors, writing teachers, or both. They cover Dialog, Plot, Characters,Emotion and Viewpoint, and Description & Setting. All are extremely well well written and engaging. In addition I have a few other books from that printing house that I have ready to read, and I joined the Writers Digest Book Club and got four new books for 21 bucks, and promptly quit the club.
So why am I reading them? The reasons are two.. ok no Monty Python I promise. One reason is fairly simple. I want to write fiction. So I'm boning up on the subject. Also which leads nicely to the next paragraph: I'm an "interested reader" for a friend's unpublished works.
So I can't tell you much about what he is writing except that it is genre bending and very well written. He has a excellent grasp of cinematic writing, you really see the action as you read it. Great (and lots of) characters and characterization, and some extremely challengeing ideas which power the novel. So far it is Six novels in all, five of which I have read second drafts of. Guess thats all I can write about this.
Next up are the classics. I have a PDA which doubles as a book reader, so I am reading at this moment The Old Man and the Sea by Hemingway. I had forgotten how great that book really is. Got inspired to read some great fiction by the aforementioned books about writing. I also have Dumas' Three Musketeers and a host of other "classics" either on the PDA or on my HD.
I am also, in a tribute to the author, re-reading all of my Jack Chalker books, at least the ones I have in ebook for now, as I don't wish to dig through the attic for my book boxes. I finished his "Well World" series which if I am not mistaken is 8 books. I'm now reading his 5 book "Spirits of Flux and Anchor" series. Mr.Chalker was always a mind bending reader, and since his passing last year, I've definitely missed reading his new series'. He specializes in people who are in unique situations where their minds, bodies or both are changed in some way during the novel. He is not a one trick pony mind you, but this theme of how these challenges are handled are pervasive in his writing. He writes everything from Hard Science Fiction, through Sword and Sorcery Fantasy to very humorous takes on this large genre.
When I started the school year this year I decided to bone up a little on any theories or practices of teaching. So I went to the local library (yea you can sit back in your seat now) and checked out a small stack of books on theory and practice. I've definitely read some fascinating books, the most recent of which is unfortunately finished and returned, or I would mention it here. I read the Essential 55 and the Excellent 11 by Ron Clark. I also have in my book bag The Elements of Teaching by Banner and Cannon and Teach With Your Strengths by Liesveld and Miller.
So four books at a time at any one time is probably enough. Its easier when it is two fiction and two non fiction.
Thanks for listening!
posted by Mike 8:16 PM
Tuesday, October 09, 2007
Lets hear it for Saint Anford!!!!

Ok so first on Saturday Stanford dumped USC at the last min. That is UNRANKED St. Anford dumping NUMBER 2 in the nation USC.

THEN

The Beefalo Boils.. almost became the Buffalo Bills again on Monday night. Either way, even though they lost at the last possible minuite by .. ugh.. Dallas... their rookie quarterback and ST. ANFORD graduate Edwards did magnificently!!! Not bad for a kid that went "0-for" one of his years at Stanford.

All hail!
posted by Mike 1:55 PM
Monday, October 08, 2007
My Enneagram
I learned of this system while reading one of the Writers Digest Books series from "Write Great Fiction: Dialogue" by Gloria Kempton.
Enneagram Test Results
| | | | |
| --- | --- | --- | --- |
| Type 1 | Perfectionism | |||||||||||| | 42% |
| Type 2 | Helpfulness | |||||||||||||||| | 70% |
| Type 3 | Image Focus | |||||||||||| | 46% |
| Type 4 | Hypersensitivity | |||||| | 30% |
| Type 5 | Detachment | |||||||||||| | 42% |
| Type 6 | Anxiety | |||||||||||||| | 54% |
| Type 7 | Adventurousness | |||||||||||| | 46% |
| Type 8 | Aggressiveness | |||||||||||||||| | 62% |
| Type 9 | Calmness | |||||||||||||||||| | 78% |
Your main type is
9
Your variant is
social
Take Free Enneagram Personality Test
---
---
And here is another one
Enneagram Test Result
Enneagram Type Indicator Results
Your highest score will indicate you basic type, or it will
be among the top 2-3 scores.
| | | | | | | | | |
| --- | --- | --- | --- | --- | --- | --- | --- | --- |
| Type 1 | Type 2 | Type 3 | Type 4 | Type 5 | Type 6 | Type 7 | Type 8 | Type 9 |
| 2 | 7 | 5 | 3 | 3 | 4 | 6 | 1 | 5 |
The Nine Personality Types of the Enneagram
Type 1: The Reformer. The rational, idealistic type.
Type 2: The Helper. The caring, nurturing type.
Type 3: The Motivator. The adaptable, success-oriented type.
Type 4: The Artist. The intuitive, reserved type.
Type 5: The Thinker. The perceptive, cerebral type.
Type 6: The Skeptic. The committed, security-oriented type.
Type 7: The Generalist. The enthusiastic, productive type.
Type 8: The Leader. The powerful, aggressive type.
Type 9: The Peacemaker. The easygoing, accommodating type.
For more information about the types, the test or your score, click
here.
posted by Mike 7:36 PM
Sunday, September 23, 2007
46 today
I'm working today. Taking next weekend off. Alex was perplexed regarding why I was working today, he does not get the idea of stretching out a birthday to a week at least. Dad called me at work last night, and then this am around 930. Mom called around 1230.
Alex and Liza snuck birthday cards in my backpack, and I know they are planning a nice dinner tonight.
So that is it, 46 not 47.... lol.
posted by Mike 1:02 PM
Wednesday, September 19, 2007
I am a Math Moron
Please disregard my post from September 10 of this year. I know I was married in 1988. What I can't seem to get my head around is that this is still 2007. I have been thinking that I am about to be 47 and that my 20th is comming all year. That will be NEXT year, in 2008. Then 2009.... 30th HS reunion. Weee
posted by Mike 12:59 PM
Monday, September 10, 2007
20 years ago today (No it is 19, see above)
(comments added when I realized my mistake)
Hard to believe. Long time, yet no time at all. We got married at the Apel Inn in Altamont. It was a quite service outside, though the fireworks leading up to it almost did in the marriage, and the officiating Minister almost got replaced. The night before had been the reception dinner at the Desmond and it was a doozy, so everyone was a bit "peaked". The ceremony had lots of attendees, including three ducks and two cats.
Things are tight and a bit strained so we stuck with cards this year. For the last big anniversary's we did something, but not exactly on that date.
At 5 yrs we had Alex, a month earlier.
At 10 yrs we closed on our house 2 mo later.
At 15 yrs we took a 2nd honeymoon a year later in Paris.
So there is still time to celebrate.
This isn't sour grapes, nor is it an invitation to send a belated happy anniversary but it frankly surprises me how many called or sent letters. None.
(OK this is no big deal at 19, ask me again next year)
When my brother Andrew had his I was prompted to call, as he considered it a big deal. It is par for the course with brother Andrew. He seems to get most of the attention these days.
(just ignore this section completely)
Lets see if we make to 40 I will be a sprightly 64, heck 60 i'll only be 85 fully in the realm of possibility with the longevity of my family. Now just to see to the longevity of the marriage.......
posted by Mike 9:45 PM
Thursday, September 06, 2007
Just a quick update on the car situation.
They did not total the car, but the damages will take about 20 days total including parts ordering. Rental will be covered till then. Good think I have that addition to my policy! Got a real run a round by Enterprise today but finally ended up with a Dodge Magnum for a day, till they get the right "class" of car that is under my daily rental limit. It is black with tinted side windows in the back, and frankly looks like a hearse. No idea why anyone would want one of these things, it gets terrible gas mileage.
So there we go, I will probably pop a picture of it on the blog tomorrow just for laughs.
---
---
posted by Mike 10:49 PM
First day of High School
thank you emmy
posted by Mike 7:19 AM
Wednesday, September 05, 2007
When bad things happen to good people...
She stopped. I stopped. The car ahead of her started. She started. The car ahead stopped. I started.. and got stopped...
I looked up, she took off, I looked at my dashboard and the next thing I knew my head was on the steering wheel. She was driving a jeep and the tow bar spot nailed the front of my car... crushing the bumper, wrecking the radiator and making a general mess. The compartment was full of steam before you knew it.
ZERO DAMAGE TO HER CAR. I hate SUV's… if it had been a car I hit there would have been minimal bumper damage to both cars.
This happened today around 5pm on the way to Radio Shack. Needless to say I didn't get there. I had it towed to my Insurance Company's body shop... and I won't know for a bit if it is done.
I love(d) this car. Think good thoughts about a repair instead of a total.
I'm quite sore. But the airbags didn't go off so part of that is from all the yardwork I did on Labor Day I figure. Still my back hurts.
Here are the cell phone pics.
---
---
---
And here we are at the body shop.
---
My only worry is that cross beam. If it is part of the frame.. then I don't see them rewelding it. Otherwise.. well we can hope it's not totaled.
posted by Mike 10:02 PM
Thursday, August 30, 2007
We go Whitewater Rafting tomorrow. Should be fun!
Here are this nights' piccies.
---
---
---
---
---
---
---
---
---
---
---
---
---
---
---
---
posted by Mike 11:19 PM
Monday, April 02, 2007
US Air really sucks
Yes that is Liza's bag on the tarmack in Puerto Rico. We watched it crawl up the loading ramp and then drop to its peril right in front of our eyes. Good thing that almost everything in there was not fragile. The one thing that did get broken was the souvenir refrigerator magnet we had bought. Not sure what we are going to do yet about this. Yes they picked it up, but not after watching four other bags get to the top of that ramp and plummet to their peril.
So why else does US Air suck.
DID YOU KNOW that they have the nerve to charge 5 dollars for really crummy box meals during flight?
DID YOU KNOW that both our 767 going to Puerto Rico and our 757 coming out of Puerto Rico have bad audio feeds so that (god forbid) we use our own headsets to watch the movie, the sound is so crackly that the headsets could not be listened to?
DID YOU KNOW that the US Air hub in Phili is so bad that very few flights but the first ones get in and out on time?
DID YOU KNOW that last year US Air arbitrarily zero'd out unused mileage on their mileage program last year?
The actual travel story is that we left the Paradisus at 9:30 for a 12:30 flight. Our travel / hotel coordinators who put the weekend together had local talent at the airport to wisk us through the agricultural check and off to security. Security was a breeze so we ended up with and hour and a half to kill before takeoff. So we thought.....
We didn't board / takeoff until 1:30pm. The movie back up to our second leg (Phili) was "Miss Potter" which looked lovely, but ended up as I said to be unenjoyable due to the aforementioned audio situation.
We arrived with just 45 min to spare between flights and two terminals to cross. Or so we thought....
We did take the time to grab a very yummy meal from Au Bon Pain in the Phili Airport, but the service was soo amazingly lousy I can't even begin to describe the total rudeness and indifference of the employees there.
Anyway we get to the gate and the next leg is running a half hour late. Then an hour. Then we sat on the runway for 30 min....
We finally got home, I dropped Liza off at the house and went and got the Dog and the kid's clothes etc etc.
Home at last.
DONT FLY US AIR!!
posted by Mike 11:32 PM
Sunday, April 01, 2007
Saturday Night and Sunday

Saturday Night Dinner and Martini's
Our dinner at Bamboo Asian Fusion was very good. This place was a bog standard "Hibachi cooking table" restaurant, as well as the best of the fine dining at the Paradisus. The restaurant lived up to its name on both counts, very good food, but not superlative performance. The only complaint I had was that the food was much saltier than normal.
I started the night with a Coconut Martini, which was actually quite good as a starter drink. I had another at the dinner, but the sweetness was a bit much so I switched to regular dry Vodka Martini's. This was a mistake because five or so later.. well I was hungover the next day.
In the mean time we had a really fun time after dinner hanging out with lots of Liza's friends. You will even find a picture of one of the women we were hanging with smoking a cigar on the
Photo Bucket site
. Another lovely night in Paradise.
Sunday - ATV ride and the Closing dinner.
Ok yea so I woke up with a wicked hangover. However even after many offers to not go, I bucked it up and got ready for our Sunday Activity. First though we did get to finally get a really great breakfast at the Caribbe restaurant, which runs on a buffet style. They had a great omelette chef and the food made me feel almost human.
We then got on our busses and headed up into the mountains for the ATV ride. This was billed as an ATV ride through the rain forest, an idea which actually boggles the imagination if you think about it, but really turned out more to be just a ride through the mountains. Do look at the pictures at the Photo Bucket site. The ride was really quite fun. We splashed through lots of water and mud puddles, and made a general mess of ourselves. Our destination was a beautiful river where Liza and one of the other Superstar Winners from our local warehouse went swimming. All and all it ranked right below the dinner last on Friday night as the most fun in my book.
We got back around 1:30 and I was kind of crashing from the high of riding around the jungle on a big ATV, so I laid to take a nap and ended up sleeping almost two hours. I woke up feeling much better, but not better enough to drink. So we showered and dressed up for the final formal dinner. Again look to the Photo Bucket page to see how well we cleaned up. The dinner itself was fairly unremarkable, it was "surf and turf" which was underdone beef and overdone mahi-mahi. I got some spaghetti, which is the best way I can describe what I got, instead of the beef and shrimp.
Liza got her Presidents' Club ring this evening, only the second woman in the history of the company to earn this ring through sales. (All VP's get the Presidents Ring by default). This award is earned by hitting all her numbers, qualifying for Superstars, and doing this after five full years of service. So this year, being her sixth, was her first possible year to qualify, which is an achievement in itself.
We had some local entertainment afterwards, and the party broke up fairly early, as it tends to do with the travel day the next day. I went up and chilled in the suite and Liza went out and did a bit of final schmoozing.
Remember to return to the
PUERTO RICO PHOTO BUCKET SITE
as I will be scanning in the Professional photos that we were given of our trip, as well as my 35 mm photos when I get them developed.
Next up.. the horrid trip home and why you should NEVER fly USAir.
posted by Mike 11:05 PM
Saturday, March 31, 2007
Friday Night and Saturday
Friday Night Dinner
Our dinner Friday night was supposed to be a bit of a surprise coming in to PR. Thu night we all got cards inviting us to a special dinner in the Rainforest. So we all bundled up into four busses and headed up to the mountains. The ride was a bit hairy but when we got there were were treated to a lovely little walk through the Rainforest at night and then had a nice cocktail hour.
The dinner itself, the food, was pretty disappointing, at least that was the consensus. Personally I thought the meat was ok, but somehow they had destroyed the local grouper that they cooked up for the fish. How they did that is still beyond me. After desert there was much dancing and fun. Everyone got pretty buzzed who wanted to on Bacardi Rum punches including yours truely. Liza doesnt "do" rum but she had a few herself.
We got to talk to a lot of people, including Rick's Hillman's wife for quite a bit. You always get to meet the most interesting people on these trips, and this trip has been no exception. With it being the third Superstars trip for Liza, you begin to see the same faces over and over, which is good too.
We had to chase down a late night snack at the Mirador "restaurant" after we got back to the resort because the dinner had been so unremarkable.
PUERTO RICO PHOTO BUCKET SITE
Remember to go from Bottom to Top, and page one to three!!
Saturday - Fun day on the beach
We slept in on Saturday and didn't get down to the beach till 1115. We had not eaten either, as we kinda slept through breakfast. We had a great time just hanging on the beach with the Hillman krew. The food was amazing, and made up for Thu and Fri's fare. We had chicken, ribs, salad etc. Very yummy.
There were Hobie Cat Catamaran rides available free for one half hour so we did that, and it was really fun. Those things do get going. We also had a challenge from Upper Hillman Management to all comers, and they beat all three teams that challenged them in Volleyball.
Tonight we have our "special" dinner at an Asian restaurant which seems to be the best one according to the people we have chatted with. It's just Liza and I, but we may be joined by Mike from her region, whose wife was not allowed to go on this trip by her school district because of how close it was to the Spring Break in two weeks.
PUERTO RICO PHOTO BUCKET SITE
Remember to go from Bottom to Top!!
posted by Mike 4:14 PM
Friday, March 30, 2007
Thursday and Friday
Thursday - Albany to Puerto Rico.
We flew from Albany to Charlotte, and then laid over an hour, and flew Charlotte to San Juan. Both legs were easy and the planes were comfortable to the most part. We met up with the other two sales people from L's division, although one of them was sans spouse as her School District would not let her have the time off so close to Spring Break.
We arrived San Juan on time and took a one hour bus ride to the Paradisus Resort. This is an all inclusive resort, so the food and drink are part of the package.. so far.. the drinks are weak and the food is strictly Marriott standard... but its still all good as they say.
Once we were in our bungalow we got changed and headed down to the meet and greet out by the pool. I got two great pictures of Caribbean Sunsets which you can find on the Photo Bucket site under Puerto Rico.
PUERTO RICO PHOTO BUCKET SITE
Remember to go from Bottom to Top!!
We then had a super nice dinner inside (it is threatening to rain anytime this weekend so most of the events have been moved inside.) There was some local entertainment and the food was mostly local as well, jerk chicken, local rice and bean recipe's etc etc. I didn't get a good shot of the entertainment, but I will be able to scan in some photos we got from the event coordinators.
By Thu night, because of the lack of food and sleep before the reception, but the end of the night I was nursing a nice sized headache. Still, I tried to bury it under some Tequila Sunrise's and was moderately successful. We finally retired from the post dinner parties about 1130 or so.
Friday - Award Breakfast and Old San Juan
We have done just two things today so far. There is a very special dinner at a rainforest this evening that Ill post about later.
We had the obligatory 3 hour award session for breakfast this am. Typical Marriott breakfast fare, and they couldnt seem to serve HOT coffee. However the meeting was enjoyable if a bit long and there is a picture of Liza getting her Third Superstars award over on the Photo Bucket site.
We had a chance to go into Old San Juan today and so we grabbed it. IT was an hour ride to and from, but the old city was as charming as we remembered it from when we were here 14 yrs ago on the Family Reunion Cruise. We did a lot of window shopping, and had a nice local canape snack in a small plaza in the middle of the old town. Yes the pictures are at the Photo Bucket Site.
We did go all the way out to the old fort as well and looked around. They were flying kites today, very windy, and it was just great to experience the old city and the old historical forts. This activity was optional and we are very glad we did check it out.
Ok more later. Enjoy the pics at the Photo Bucket Site. I will caption them later if I can.
PUERTO RICO PHOTO BUCKET SITE
Don't Forget to look from Bottom to Top!
posted by Mike 5:54 PM
Thursday, February 15, 2007
So Winter Finally Comes to the Capital District
We survived the Valentines Day Nor'Easter. School was closed on Wed and Thu, and the Mall even thought to close on Wed. L didn't go out in the storm so we all had a nice day at home, barring the 2.5 hrs that I shoveled out the cars. As you can see below that really didn't matter. Enjoy the pics and think of us digging the car out again so L can do a reset today. I took these Thu Feb 15 around 745am.
---
Here is the Dog in the back, Yes she is SMALL but there is LOTS of snow.
---
Here she is again. Yea thats a bit of snow. When we throw her in the snow bank its taller than she is.
---
Looking out the front porch to the street. We DID shovel yesterday, but not yet this am.
---
Looking back the other way from the Street.
---
And what I have to shovel this morning with L so she can go do a reset.
posted by Mike 7:50 AM
Thursday, February 08, 2007
We are quite fine thank you
For anyone worrying that the "Upstate NY" snow problems have caused any problems in the Capital District have no fear. We are too far away to be experiencing any "Lake Effect" snow like Oswego.
posted by Mike 10:52 PM
Tuesday, January 16, 2007
Some shots of the MLK Day Ice Storm.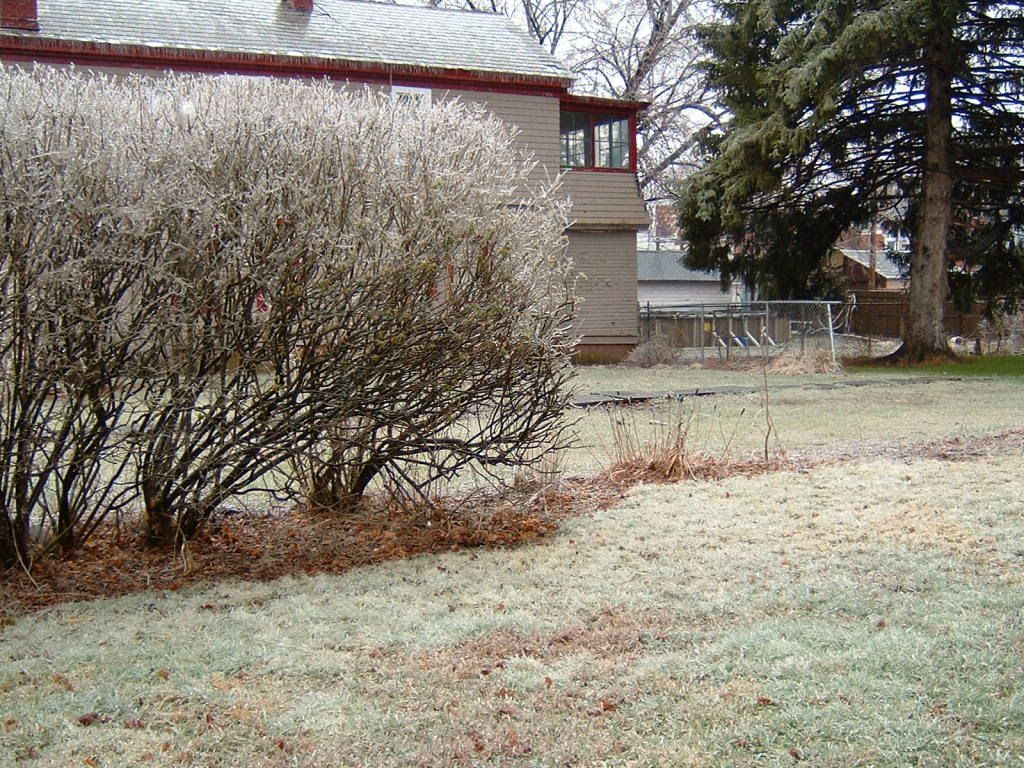 ---
---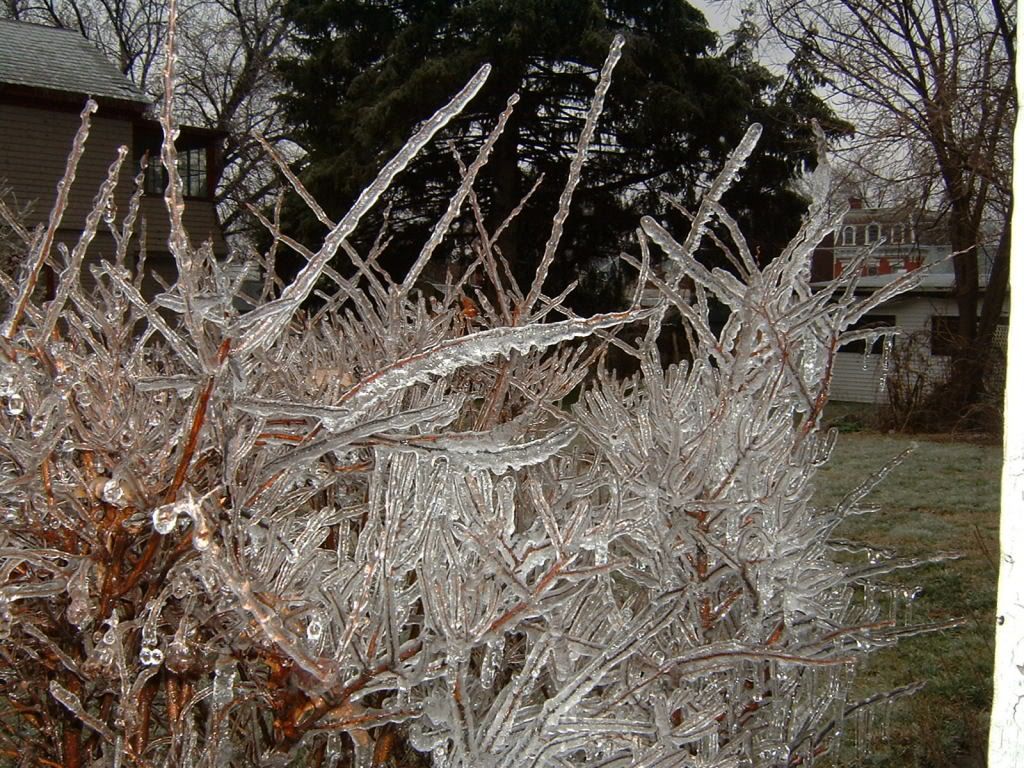 ---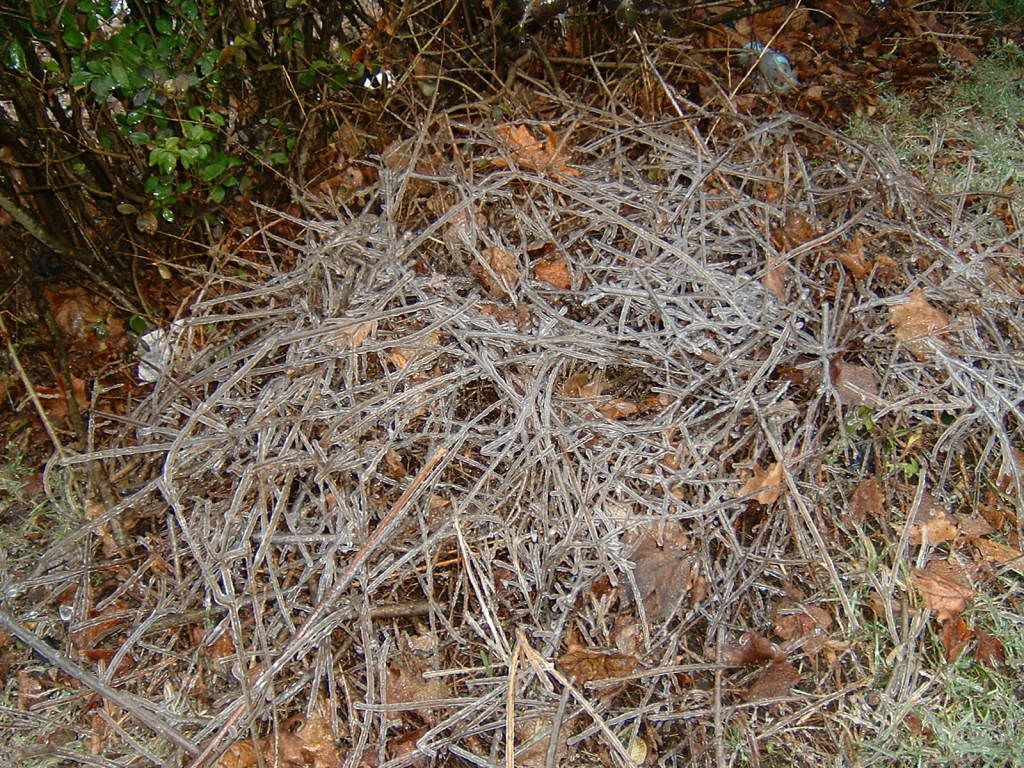 ---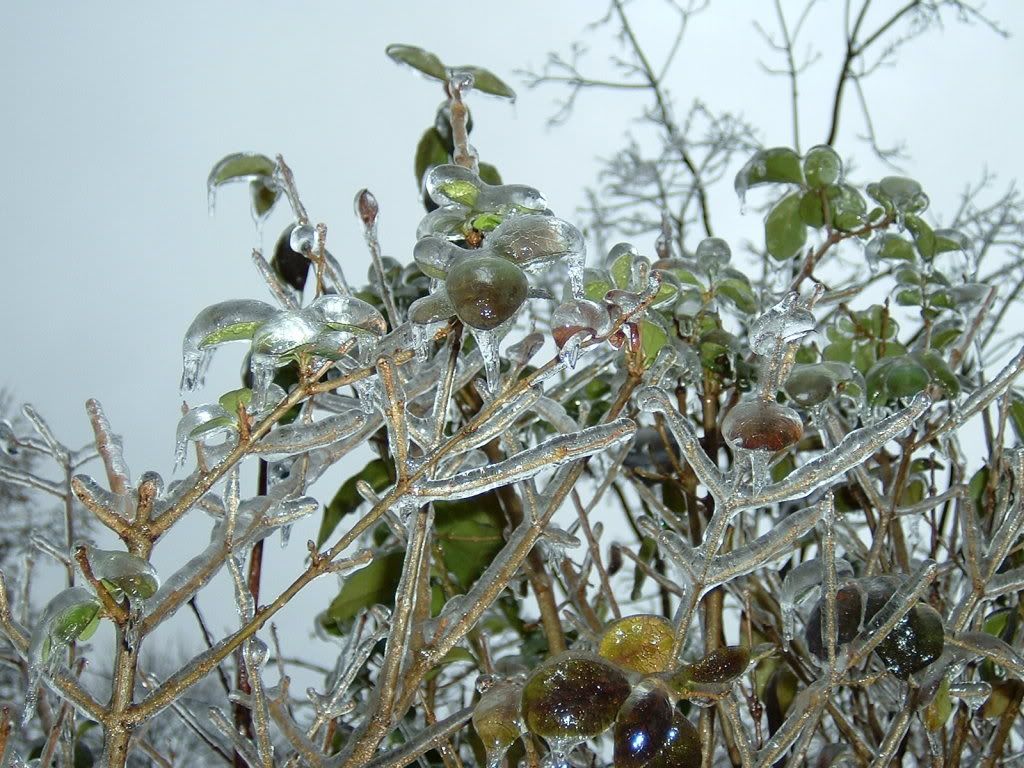 posted by Mike 6:40 PM
Tuesday, December 26, 2006
The Three Brothers Together for Christmas
Albany, San Francisco and France together in NH
posted by Mike 10:36 AM
Thursday, December 14, 2006
The lesson learned from Vietnam NOT applied to Iraq.
When I was younger I read an amazing book called "The Fire in the Lake". The premise of the book was that we were doomed to failure in Vietnam. Before you get all hot under the collar this book had NOTHING to do with Military reasons.
The book was a sociological and economic analysis of the Asian and Vietnamese cultures. It's main premise was that bringing democracy to a people which whom the whole concept of Democracy was foreign was doomed to failure.
This is a failure of American policy in general. The exportation, sometimes at gunpoint, of our version of Democracy belies a hubris on the part of Americans that pays no attention to the culture or society we are trying to import into.
The abysmal failure in Iraq can be attributed to this inability to perceive or even imagine a peoples who are not ready for, or have any background in, democracy. For some reason administration after administration, Democrats and Republican suffer from this hubris of thinking they are all just like us.
America was founded by a unique group of men, during a unique time in History. One that has never been reproduced. Look at the French Revolution for example, an attempt at democracy that was even during the same historical period. To export this experience either by subterfuge or by gunpoint just does not work. It never has. Democracy is not something to be shoved down the throat of a nation or group of people.
Democracy must evolve and be taken on internally and willingly in order to work, from the bottom up, not the top down.
The sin of hubris is rank with the now discredited "neo-conservative" movement. The assumption that we could just pile "democracy" on Iraq or any other nation is really laughable and insulting to not only the American people but to the world as well.
America is a unique and special nation, one with a rich history based upon a long history of European values. We should celebrate it and at the same time help other cultures be the best that they can be. To forget how special the American experience is, and to think we can export it willynilly anywhere in the world, really cheapens the richness of who we are, and creates suffering throughout the world where we try.
posted by Mike 9:00 PM
Saturday, November 25, 2006
When Black Friday Comes....
Worked the 930 to 930 shift yesterday, so thats what... half day?
We did over 30,000 on Black Friday, I had a decent day with just under 4k myself.
My feet were throbbing by the end of the day though, but that's no surprise. Still have 8 hrs today and 7 tomorrow to get through before I take the day off on Monday, no teaching and no RS.
Send the phone sales my way ok?
posted by Mike 11:48 AM
Thursday, November 23, 2006
59th annual Turkey Trot
Alex did ok. Two pics from the digital, though why the first is out of focus is beyond me. One from the start of the race and one at the end. He is in yellow. Said his stomach was bothering him by the end of the race. It was raining and just above freezing, but he ran it.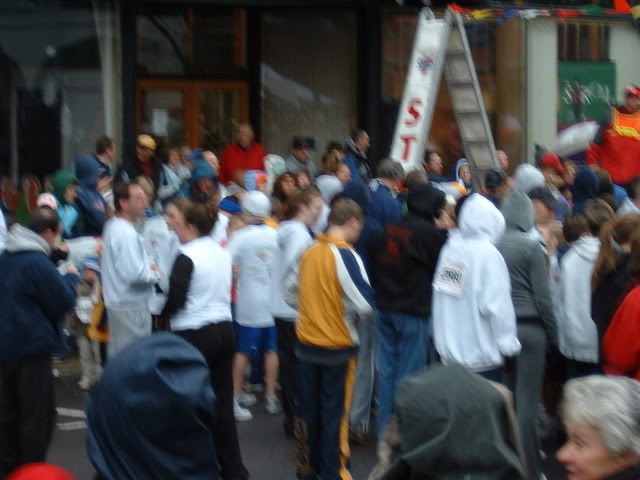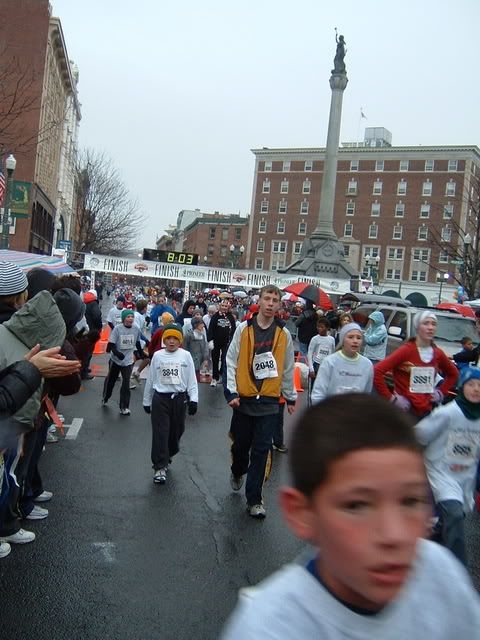 posted by Mike 11:03 AM
Wednesday, November 22, 2006
Sunset on two coasts in one Day
I sent the first pic to a friend in Santa Cruz CA, and she sent me the second one back three hours later. Both were taken with camera phones.
Technology is so amazing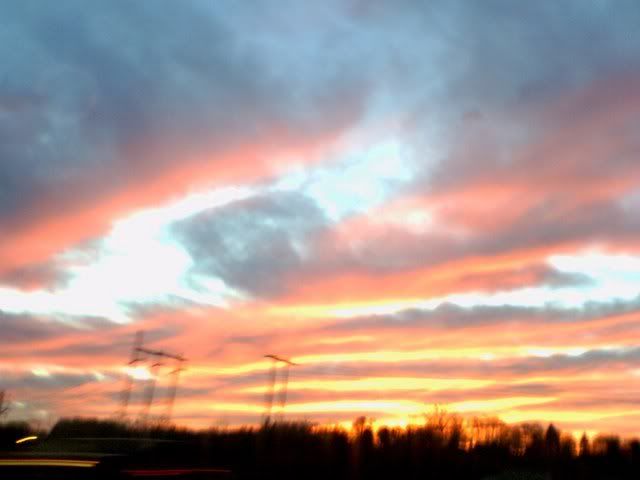 ---
posted by Mike 10:34 AM