Sunrise over Lake Champlain from Ticonderoga
Support the victims of Hurricane Katrina (click image)
Musings and Meanderings
Monday, September 25, 2006
Well it's a darn good thing there is no Global Warming.
or Another thing to trust W on....
Global temperature highest in millennia
The planet's temperature has climbed to levels not seen in thousands of years, warming that has begun to affect plants and animals, researchers report in Tuesday's issue of Proceedings of the National Academy of Sciences.
The Earth has been warming at a rate of 0.36 degree Fahrenheit per decade for the last 30 years, according to the research team led by James Hansen of NASA's Goddard Institute for Space Studies in New York.
That brings the overall temperature to the warmest in the current interglacial period, which began about 12,000 years ago.
The researchers noted that a report in the journal Nature found that 1,700 plant, animal and insect species moved poleward at an average rate of about 4 miles per decade in the last half of the 20th century.
The warming has been stronger in the far north, where melting ice and snow expose darker land and rocks beneath allowing more warmth from the sun to be absorbed, and more over land than water.
Water changes temperature more slowly than land because of its great capacity to hold heat, but the researchers noted that the warming has been marked in the Indian and western Pacific Oceans. Those oceans have a major effect on climate and warming that could lead to more El Nino episodes affecting the weather.
"This evidence implies that we are getting close to dangerous levels of human-made pollution," Hansen said in a statement.
Few scientists doubt that the planet has warmed, though some question the causes of the change.
Hansen, who first warned of the danger of climate change decades ago, said that human-made greenhouse gases have become the dominant climate change factor.
The study said the recent warming has brought global temperature to a level within about one degree Celsius — 1.8 degree Fahrenheit — of the maximum temperature of the past million years.
"If further global warming reaches 2 or 3 degrees Celsius, we will likely see changes that make Earth a different planet than the one we know. The last time it was that warm was in the middle Pliocene, about 3 million years ago, when sea level was estimated to have been about 25 meters (80 feet) higher than today," Hansen said.
posted by Mike 7:10 PM
Saturday, September 23, 2006
It was 45 yrs ago today
That I was ejected into this world in Santa Monica California. 1961, a different era and different world.
A good half way point today, many of my Grandparents generation lived into their late 90's. We will see what 20+ yrs of semi-abuse will do to my longetivity.
As for today the Godz were kind to me and I don't have to work till 430, and I have the house alone, a rare commodity in my world during the school year.
posted by Mike 11:35 AM
Saturday, September 16, 2006
We are sooooooo screwed!!
By Alister Doyle, Environment CorrespondentFri Sep 15, 11:26 AM ET
Polar bears are drowning and receding Arctic glaciers have uncovered previously unknown islands in a drastic 2006 summer thaw widely blamed on global warming.
Signs of wrenching changes are apparent around the Arctic region due to unusual warmth -- the summer minimum for ice is usually reached between mid-September and early October before the Arctic freeze extends its grip.
"We know about three new islands this year that have been uncovered because the glaciers have retreated," said Rune Bergstrom, environmental adviser to the governor of Svalbard, a Norwegian archipelago about 1,000 km (600 miles) from the North Pole.
The largest is about 300 by 100 meters, he told Reuters.
On a trip this summer "We saw a couple of polar bears in the sea east of Svalbard -- one of them looked to be dead and the other one looked to be exhausted," said Julian Dowdeswell, head of the Scott Polar Research Institute in England.
He said that the bears had apparently been stranded at sea by melting ice. The bears generally live around the fringes of the ice where they find it easiest to hunt seals.
NASA projected this week that Arctic sea ice is likely to recede in 2006 close to a low recorded in 2005 as part of a melting trend in recent decades. A stormy August in 2006 had slightly slowed the 2006 melt.
"There are very unusual conditions this year from Svalbard to Alaska," said Samantha Smith, director of the WWF's environmental group's Arctic Programme.
One international study in 2004 projected that summer ice could disappear completely by 2100, undermining the livelihoods of indigenous peoples and driving creatures such as polar bears toward extinction.
WAKE-UP CALL
Smith said the shrinking ice should be a wake-up call for governments to cut emissions of greenhouse gases, mainly from power plants, factories and cars that most scientists say are causing global warming.
"The Arctic is likely to warm more than any other part of the world" because of global warming, said Dowdeswell. Darker water and soil, once exposed, soaks up far more of the sun's heat than mirror-like ice and snow.
The melt may also open up the Arctic to more exploration for oil, gas and minerals, increase fisheries and open a short-cut shipping route linking the Atlantic and Pacific Oceans.
Ian Stirling, a researcher with the Canadian Wildlife Service, said polar bears were finding it harder to find food, threatening their ability to reproduce.
"In 1980 the average weight of adult females in western Hudson Bay was 650 pounds (300 kg). Their average weight in 2004 was just 507 pounds," he said in a report this week. Numbers in the Hudson Bay region dropped to 950 in 2004 from 1,200 in 1989.
For some, the unseasonal warmth is good news. It was 5 C (41 F) on Friday in Longyearbyen, the main village on Svalbard. "Last year the first snow fell here on September 11 and stayed all winter," said Bergstrom.
"A lot of people here have boats to go out hunting in summer and go to cabins. So it's a good year for them -- the ice melted earlier and they can still use the boats," he said.
posted by Mike 11:18 PM
Sunday, September 10, 2006
18th Wedding Anniversary
This picture was taken by the lovely couple from the other end of the Cooking Table.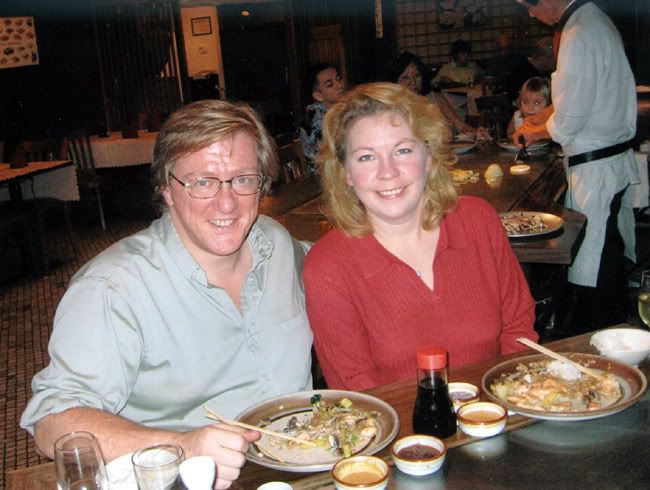 Isn't she beautiful!
posted by Mike 11:58 PM
Thursday, September 07, 2006
Boycot ABC this Sunday and Monday Night

By DEEPTI HAJELA, Associated Press Writer


A "terribly wrong" miniseries about events leading to the Sept. 11 attacks blame President Clinton's policies, former Clinton administration officials said in letters demanding that ABC correct it or not air it.

Former Secretary of State Madeleine Albright, former National Security Adviser Sandy Berger, Clinton Foundation head Bruce Lindsey and Clinton adviser Douglas Band wrote in the past week to Robert Iger, CEO of ABC's parent The Walt Disney Co., to express concern over "The Path to 9/11."

The two-part miniseries, scheduled to be broadcast on Sunday and Monday, is drawn from interviews and documents including the report of the Sept. 11 commission. ABC has described it as a "dramatization" as opposed to a documentary.

"ABC/Disney acknowledges this show is fiction and in direct contradiction of the 9-11 commission report and the facts, and it is despicable that ABC/Disney would insist on airing a fictional version of what is a serious and emotional event for our country," Clinton Foundation spokesman Jay Carson said in a statement Thursday. "No reputable organization should dramatize 9-11 for a profit at the expense of the truth."

Calls to ABC seeking comment Thursday were not returned.

The letter writers said the miniseries contained factual errors, and that their requests to see it had gone unanswered.

"By ABC's own standard, ABC has gotten it terribly wrong," Lindsey and Band said in their letter.

"The content of this drama is factually and incontrovertibly inaccurate and ABC has a duty to fully correct all errors or pull the drama entirely. It is unconscionable to mislead the American public about one of the most horrendous tragedies our country has ever known."

The letters pointed out examples of scenes they had been told were in the miniseries, but which they said never happened. Albright objected to a scene that she was told showed her insisting on warning the Pakistani government before an airstrike on Afghanistan, and that she was the one who made the warning.

"The scene as explained to me is false and defamatory," she said.

Berger objected to a scene that he was told showed him refusing to authorize an attack on Osama bin Laden despite the request from CIA officials. "The fabrication of this scene (of such apparent magnitude) cannot be justified under any reasonable definition of dramatic license," he wrote.

Lindsey and Band objected to advertisements for the miniseries, which they said suggested that Clinton wasn't paying enough attention to the threat of terrorism.

"While ABC is promoting "The Path to 9/11" as a dramatization of historical fact, in truth it is a fictitious rewriting of history that will be misinterpreted by millions of Americans," they said. "Given your stated obligation to 'get it right,' we urge you to do so by not airing this drama until the egregious factual errors are corrected, an endeavor we could easily assist you with given the opportunity to view the film."

The five-hour miniseries is set to run without commercial interruption. Director David Cunningham said it was a massive undertaking, with close to 250 speaking parts, more than 300 sets, and a budget of $40 million. Cunningham has said he shot 550 hours of film. The cast includes Harvey Keitel, Patricia Heaton and Donnie Wahlberg.
posted by Mike 1:23 PM