Sunrise over Lake Champlain from Ticonderoga
Support the victims of Hurricane Katrina (click image)
Musings and Meanderings
Tuesday, September 23, 2008
* If you grow up in Hawaii, raised by your grandparents, you're "exotic, different."

* Grow up in Alaska, eating mooseburgers, you're the quintessential American story.


* If your name is Barack you're a radical, unpatriotic Muslim.

* Name your kids Willow, Trig and Track, you're a maverick.


* Graduate from Harvard law School and you are unstable.

* Attend 5 different small colleges before graduating, you're well grounded.


* If you spend 3 years as a brilliant community organizer, become the first black President of the Harvard Law Review, create a voter registration drive that registers 150,000 new voters, spend 12 years as a Constitutional Law professor, spend 8 years as a State Senator representing a district with over 750,000 people, become chairman of the state Senate's Health and Human Services committee, spend 4 years in the United States Senate representing a state of 13 million people while sponsoring 131 bills and serving on the Foreign Affairs, Environment and Public Works and Veteran's Affairs committees, you don't have any real leadership experience.

* If your total resume is: local weather girl, 4 years on the city council and 6 years as the mayor of a town with less than 7,000 people, 20 months as the governor of a state with only 650,000 people, then you're qualified to become the country's second highest ranking executive.


* If you have been married to the same woman for 19 years while raising 2 beautiful daughters, all within Protestant churches, you're not a real Christian.

* If you cheated on your first wife with a rich heiress, and left your disfigured wife and married the heiress the next month, you're a Christian.


* If you teach responsible, age appropriate sex education, including the proper use of birth control, you are eroding the fiber of society.

* If , while governor, you staunchly advocate abstinence only, with no other option in sex education in your state's school system while your unwed 17-year-old daughter ends up pregnant , you're very responsible.


* If your wife is a Harvard graduate lawyer who gave up a position in a prestigious law firm to work for the betterment of her inner city community, then gave that up to raise a family, your family's values don't represent America's.

* If your husband is nicknamed "First Dude," with at least one DWI conviction and no college education, who didn't register to vote until age 25 and once was a member of a group that advocated the secession of Alaska from the USA, your family is extremely admirable

And finally - how come this Palin character is not allowing ANY reporters into her first meetings with world leaders?

Oh yes just what we need another Dick Cheney.

America! Get a clue.
posted by Mike 11:19 PM
Monday, September 08, 2008
What a difference one year Makes
Incoming Sophomore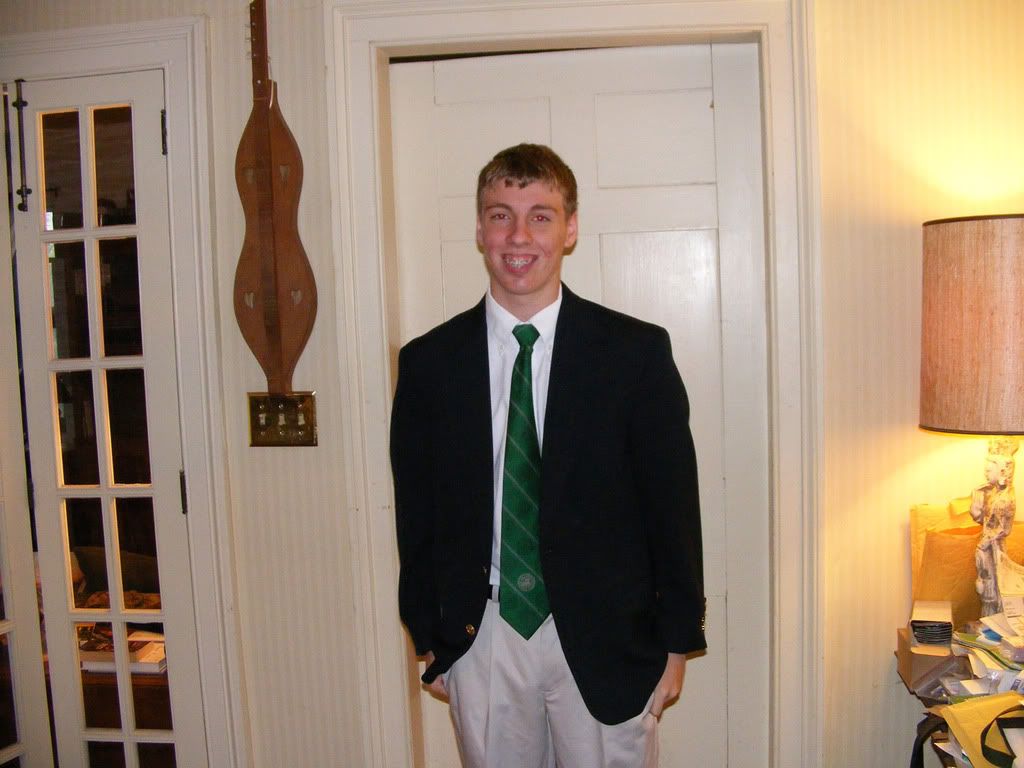 Incoming Freshman
posted by Mike 10:34 PM
Saturday, September 06, 2008
posted by Mike 1:55 PM
Thursday, September 04, 2008
PALIN: "I have protected the taxpayers by vetoing wasteful spending ... and championed reform to end the abuses of earmark spending by Congress. I told the Congress 'thanks but no thanks' for that Bridge to Nowhere."

THE FACTS: As mayor of Wasilla, Palin hired a lobbyist and traveled to Washington annually to support earmarks for the town totaling $27 million. In her two years as governor, Alaska has requested nearly $750 million in special federal spending, by far the largest per-capita request in the nation. While Palin notes she rejected plans to build a $398 million bridge from Ketchikan to an island with 50 residents and an airport, that opposition came only after the plan was ridiculed nationally as a "bridge to nowhere."

PALIN: "There is much to like and admire about our opponent. But listening to him speak, it's easy to forget that this is a man who has authored two memoirs but not a single major law or reform - not even in the state senate."

THE FACTS: Compared to McCain and his two decades in the Senate, Obama does have a more meager record. But he has worked with Republicans to pass legislation that expanded efforts to intercept illegal shipments of weapons of mass destruction and to help destroy conventional weapons stockpiles. The legislation became law last year. To demean that accomplishment would be to also demean the work of Republican Sen. Richard Lugar of Indiana, a respected foreign policy voice in the Senate. In Illinois, he was the leader on two big, contentious measures in Illinois: studying racial profiling by police and requiring recordings of interrogations in potential death penalty cases. He also successfully co-sponsored major ethics reform legislation.

PALIN: "The Democratic nominee for president supports plans to raise income taxes, raise payroll taxes, raise investment income taxes, raise the death tax, raise business taxes, and increase the tax burden on the American people by hundreds of billions of dollars."

THE FACTS: The Tax Policy Center, a think tank run jointly by the Brookings Institution and the Urban Institute, concluded that Obama's plan would increase after-tax income for middle-income taxpayers by about 5 percent by 2012, or nearly $2,200 annually. McCain's plan, which cuts taxes across all income levels, would raise after tax-income for middle-income taxpayers by 3 percent, the center concluded.

Obama would provide $80 billion in tax breaks, mainly for poor workers and the elderly, including tripling the Earned Income Tax Credit for minimum-wage workers and higher credits for larger families.

He also would raise income taxes, capital gains and dividend taxes on the wealthiest. He would raise payroll taxes on taxpayers with incomes above $250,000, and he would raise corporate taxes. Small businesses that make more than $250,000 a year would see taxes rise.
posted by Mike 6:05 PM